ING Runners
More and more people discover running as a great and simple way to keep moving. You can actually get started right away with a pair of good running shoes and sportswear.
Introduction
ING Runners is an enthusiastic club of around 100 members. The emphasis is on recreational running, but competitive runners are more than welcome too! The distances in which the ING Runners participate vary from 5k to full marathons (42.2k).
Before you take part in running events, it is wise to get enough, so that you can run at least 5k. It doesn't matter how fast you run. Running must be fun!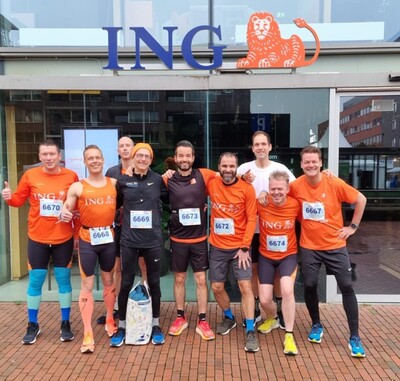 Do you want to improve your running skills, we recommend to find a trainer/coach or join an athletics club. ING Runners does not provide that. You can also join an existing ING running group.
Sign up
Activitities
ING Runners takes part in well-known running events, such as the Dam tot Damloop, Amsterdam Marathon and the Egmond half Marathon. In addition, ING offers employees numerous events via My vitality. For more information, visit www.ing.com/myvitality.
ING Runners Board
| | | | |
| --- | --- | --- | --- |
| Chairman | Matthijs Monster | 06-30806026 | Policy, PR and abroad |
| Secretary | Marcel van Stroe | 06-13163964 | Correspondence and communication with the members and running organizations and supplying content for the internet site. |
| Treasurer | Sergio Contrucci | 06-10661730 | Finances, budget, etc. |
Membership
Would you like to participate in the events on the running calendar below with your colleagues? Then quickly sign up with ING Runners. A condition for membership of ING Runners is that you are also a member of the staff association of ING: De Oranje Leeuw. The annual contribution of the ING Runners is € 48. After July 1 you pay € 24 until January 1.
Upon registration you become a member for at least 2 years.
Team clothing
ING Runners has its own clothing line. Every three years we offer members a new set of clothing, consisting of a shirt with long and short sleeves, long tight, short and a singlet. A personal contribution of € 40 applies for this. Members are required to wear this clothing during the run in which ING Runners is participating. The clothing can be ordered online in June, delivery will follow in August. We recommend ordering the shirt a size larger than you are used to. For the discount voucher or questions, contact the treasurer.
ING Runners calendar
These calendars can be found here.
Calendar archive
All previous years of the running calendar and the corresponding reports can be found here.