Geplaatst op 01-10-2022 - Categorie: Verslagen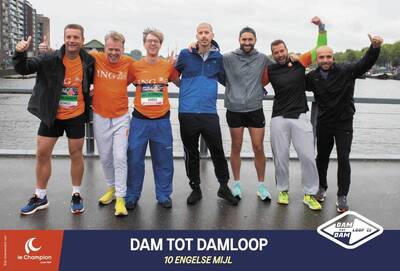 The stage was set for the famous Dam tot Damloop 2022. ING Runners waiting in anticipation following the cancellation of the 2021 edition due to Covid. Among the starters for the ING Runners were newcomer George, who was very excited to make his debut and use the run as a warm up for the Amsterdam marathon in October. With a strong team turnout the remainder of the ING Runners team was made up of Tijmen, Bas, Luuk, Mustan, Mirko, RJ, Marcel (Captain) and Eelke. A fantastic turnout!
As the team photo was about to be taken, thick, dark clouds descended on Prins Hendrikade and the ING Runners took shelter to stay warm and leave their belongings. Following warm ups, the ING Runners took their place in the busy, crowded starting point, dancing enthusiastically to keep warm in the difficult conditions. Seconds before the starting gun, an enormous deluge of rain soaked the runners. Although they looked like they had just taken a swim in the Ij, the Runners were still excited to get moving!
Despite the rainfall, the crowds were supporting in vast numbers. The Runners hit the IJ-Tunnel to the sound of drums and music, pushing them forward. It was a nice 5 minutes of relief in the tunnel without the rain. Unfortunately the relief was short lived, and the Runners pushed on and through the village of Molenwijk. It was a flat course but with lots of fellow runners making it difficult to overtake. The Runners continued their journey through small hamlets with loud music and cheering supporters.
The Runners made their way passed the Noorder Ijplas and onto the streets of Zaandam. Pushed by the crowds on the street of Dam, the Runners finally reached Peperstraat with the heavy rain still trying to dampen the mood. The rain failed, and all of the ING Runners conquered the conditions and the Dam tot Damloop course. A fantastic event, with the team excited for the 2023 edition!!
And we all made it
Regards,
Marcel